"Create TV Airs J Schwanke's Life in Bloom Marathon in July"
---
Grand Rapids, MI, July 5, 2023 – J Schwanke is hosting a marathon of J Schwanke's Life in Bloom episodes on Create TV July 14, 15 and 16, 2023. "I was delighted to be asked to choose my ten favorite episodes, and film hosting segments specifically for this marathon, which will be seen on public television Create TV stations in July!" explained J Schwanke.
"Our viewers truly love flowers and so we wanted to give them a marathon of episodes from J Schwanke's Life in Bloom on the Create channel," said Shawn Halford, American Public Television Executive Vice President of Content and a key member of the Create programming team. "J's passion for flowers is infectious! What better way to celebrate everything flowers than with ten of J's hand-picked favorite episodes."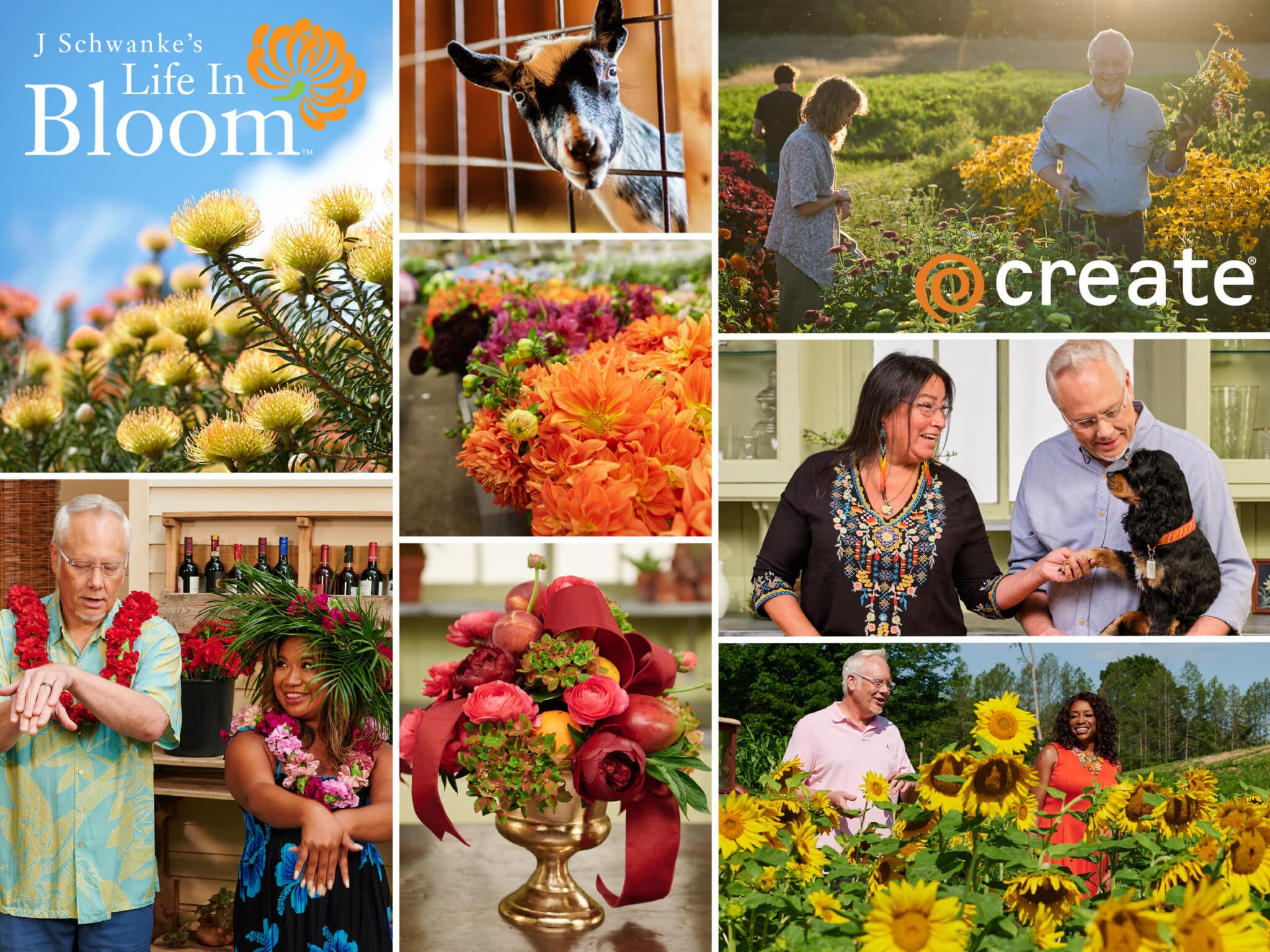 "It was a challenge to narrow down five seasons – over 65 episodes – to a favorite ten," said J. "I wanted to give viewers a treat, whether they are already fans – or seeing the show for the first time. It's such a special opportunity, and I am thrilled and grateful that Create TV chose to schedule marathon blocks of the series."
"I hope viewers enjoy the 5 hours of flowers – including a show not yet aired on Create TV from Season 5, which features a visit to the most amazing herb and flower farm, Golden Hour Farm," enthused J. Additional highlights include an episode about Lavender – featuring baby goats, spotlights on Sunflowers and Protea, tropical flowers, Italian-inspired arrangements, and 'Pets and Flowers.'
Specific times for the marathon are as follows (Eastern Standard Time): Friday, July 14 in Prime Time from 9pm-2am; Saturday, July 15 from 10am-3pm; Sunday, July 16 from 12pm-5pm. The episodes will also be aired in one-hour increments July 16-20 again in Prime Time from 9pm10pm as well as overnight from 2am-3am, also Eastern Standard Time.
"Of course, it's all possible due to the generous support of the show's underwriters. I am so thankful that CalFlowers, Albertsons Companies, and closed-caption funder Holland America Flowers are such incredible supporters – their continuing commitment to flowers is the key to everything we do," said J.
J Schwanke's Life in Bloom is presented and distributed in the U.S. by American Public Television. The show's current underwriters are CalFlowers, Albertsons Companies, and closed caption funder Holland America Flowers. Check local public television and Create TV listings to find out when J Schwanke's Life in Bloom airs in your area. The show is also available to stream for free via www.uBloom.com/LifeInBloom and the PBS Passport App.
About J Schwanke
J is the host and creator of the TV show J Schwanke's Life In Bloom, beginning its fourth season on public television. A fourth-generation florist, he is a flower expert and professional speaker, regarded as the most trusted voice in the flower industry. He was actually born at a flower convention and grew up in his family's greenhouses. His website, uBloom.com, offers flower fans everywhere the opportunity to learn and experience the fun of flowers and flower arranging, 24/7! J has given flower demonstrations in all 50 states, Canada and England. Highlights include the Epcot International Flower and Garden Festival, Art in Bloom, Bouquets to Art, San Francisco Flower & Garden Show, and Flowers at Kensington Palace. The J Schwanke YouTube Channel has over 90,000 subscribers and more than 11.5 million views. J is the author of Fun with Flowers, a Living Now Book Award winner, and Bloom 365 – The Essential Guide to Arranging Flowers Every Day, awarded the Gold IPPY (Home and Garden category) by the Independent Publisher Book Awards.
American Public Television
American Public Television (APT) is the leading syndicator of high-quality, top-rated programming to the nation's public television stations. Founded in 1961, APT distributes 250 new program titles per year and more than one-third of the top 100 highest-rated public television titles in the U.S. APT's diverse catalog includes prominent documentaries, performance, dramas, how-to programs, classic movies, children's series and news and current affairs programs. Doc Martin, Midsomer Murders, America's Test Kitchen From Cook's Illustrated, AfroPoP, Rick Steves' Europe, Pacific Heartbeat, Christopher Kimball's Milk Street Television, Legacy List with Matt Paxton, Lidia's Kitchen, Kevin Belton's New Orleans Kitchen,
Simply Ming, The Best of the Joy of Painting with Bob Ross, Live From the Artists Den, James Patterson's Kid Stew and NHK Newsline are a sampling of APT's programs, considered some of the most popular on public television. APT also licenses programs internationally through its APT Worldwide service and distributes Create®TV — featuring the best of public television's lifestyle programming — and WORLD™, public television's premier news, science and documentary channel. To find out more about APT's programs and services, visit APTonline.org.
Be the first to know about the latest floral industry trends by signing up for our newsletter.