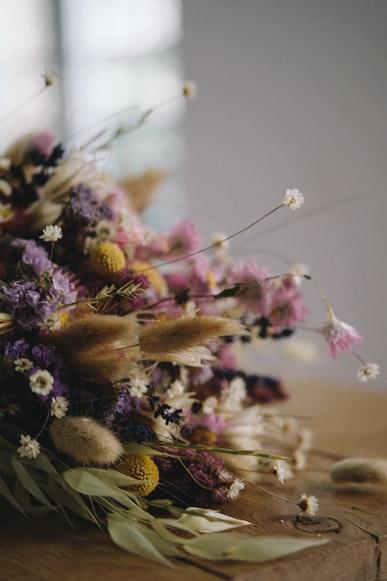 Floral Industry Trends 2022: Best Colors, Styles, and Designs for the Flower Industry
---
The floral industry is a constantly evolving one. Considering that the industry changes every year, there's a lot in store for 2022 floral industry colors, styles, and designs. These are going to affect the entire year and impact your business, making it essential to be aware of them. Let's check out the top floral industry trends of 2022 below.
Floral Industry Color Trends
Color trends change from year to year. Last year, we saw the floral industry dominated by the Pantone Colors of the Year, Ultimate Gray and Illuminating. In 2022, we're seeing even more color trends, especially those popularized by Pantone, Behr, Benjamin Moore, and others.
Bold and Vibrant Colors
Neutrals aren't disappearing but a major floral industry trend in 2022 is embracing bolder colors. Celebrations are back and the world is looking for brighter alternatives and pops of color. Many companies have stuck with greens, but Pantone made waves when it announced its pick. The Pantone Color of the Year 2022 is a beautiful periwinkle called Very Peri. According to the executive director of Pantone, the blue undertones bring in calmness and trust while the violent-red undertone is representative of the creativity and joy that we're bringing to the new year.
WSGN's pick is also a bright one, a stunning magenta tone called Orchid Flower. While Etsy has stuck to green, its pick differs from other greens. Instead of being earthy, it's more jewel toned. The rich emerald green is definitely part of the bold color trend for 2022.
Muted Greens
Green has been a trending color for the past few years and continues to dominate floral industry trends. Some of the top paint brands have said as much, with Behr choosing Breezeway as its Color of the Year. This pastel green with blue undertones is particularly calming. Benjamin Moore, on the other hand, went with a sage green called October Mist while Sherwin-Williams opted for a similar cool-toned green called Evergreen Fog.
Floral Industry Style Trends
Wild and Spontaneous Arrangements
2022 is all about wild, more spontaneous arrangements. The unfinished and non-perfect look continues to reign, emphasizing organic styles that aren't too styled. Free-flowing flowers with visible stems are going to be especially popular. The Flower Council of Holland UK has emphasized the importance of more carefree and relaxed styling as well.
Mixing and Matching
Dried flowers have been popular the last couple of years, and they're not going anywhere. In fact, mixing and matching has become an even more popular floral industry trend. Designers are mixing dried flower elements with fresh flowers to benefit from both color and texture.
Floral Industry Design Trends
Interior-Oriented Designs
Unfortunately, the COVID-19 pandemic is continuing into 2022. With more lockdowns and restrictions seen throughout the world, interior-oriented designs are definitely at the forefront of floral industry trends and design. In addition to more containers being used, we're going to see many more plants, especially hydroponic and air plants.
Minimalist and Simple
Minimalism isn't going anywhere and the floral industry is fully embracing simplicity. With the last few complicated years the world has had, there's no better time than 2022 to opt for more soothing and simple designs. Instead of adding too many varieties, designers will focus on one or two main flower varieties and use greens, fillers, and dried flowers to add to the arrangements.
For more on floral industry trends, reach out to New Bloom Solutions' floral industry consultants here.
Be the first to know about the latest floral industry trends by signing up for our newsletter.