Cross-Segment Floral Industry Connections Brought 250(+) People, the Mayor, and $2,400 for Charity to the Heart of Doral
Miami, FL — March 15th, 2023 — The floral industry gathered in Miami to attend WF&FSA's Floral Distribution Conference, where the theme was 'The Future in Bloom.' The goal was to enrich knowledge, drive success, make connections, and learn from each other. That sentiment continued at the Above All Flowers & New Bloom Solutions' third annual Bloom Together After Party, where more than 250 people and the city of Doral Mayor Christi Fraga gathered.
The Bloom Together After Party was created out of a simple question that owner and founders Sahid Nahim and David Kaplan of Above All Flowers & New Bloom Solutions asked themselves: What advancements, innovations, and growth could be achieved if all segments of the floral industry worked together? Both Sahid and David agree that it begins with getting all of the industry stakeholders together.
This year, the visionary event was held at The Doral Yard on March 6, 2023, in a 20,000 sq ft. venue that provides co-working stations, indoor/outdoor meeting and event areas, and a food hall for independent restauranters. The Doral Yard was created to be a local incubator for entrepreneurial ideas where guests can test, iterate, and validate concepts fostering the importance of innovation and community connection — the very idea that Sahid and David have for the floral industry.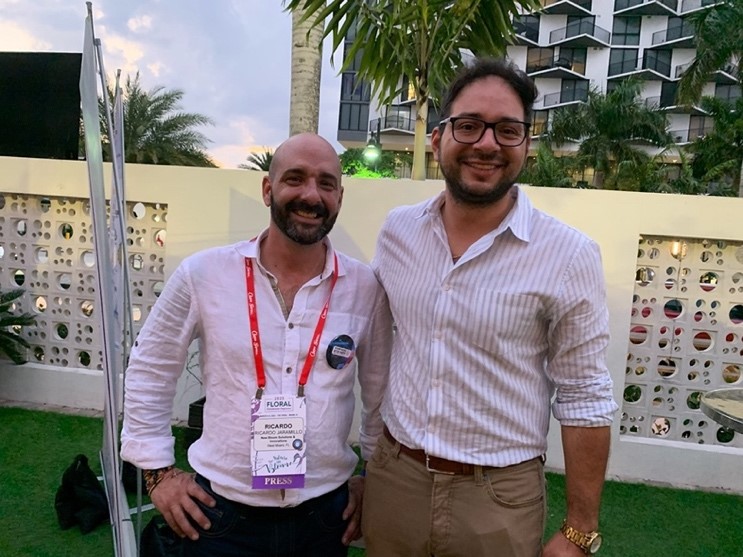 The venue's Chief Operating Officer, Danny Ruiz, was excited to work with the Above All Flowers & New Bloom Solutions team. "This is the very reason why The Doral Yard exists," he says. "We want to unite entrepreneurs, and hosting the floral industry is a perfect example of why we created the venue."
Sahid brought the floral industry together to experience his vision firsthand and set out to bring awareness of the floral industry's impact on the local economy by inviting the mayor and other local business owners to participate, learn, and connect.
No one understands this idea better than Iker Elorriaga, co-owner of Tripping Animals Brewery — a third-year sponsor and the 2022 host of the Bloom Together After Party. Instead of hosting this year, Iker was able to network.
"I have great respect for the floral industry," he says. "Living in Miami, you know that floral is large, but I never realized the complexity and volume that comes through the Miami Airport. Sahid's vision is impressive and positive. The event has grown so much in the last couple of years. It solidifies the idea that collaboration with businesses in the community and building something together uplifts us all. It's amazing what he is doing here." said Iker.
Above All Flowers & New Bloom Solutions involved other local businesses and the newly elected first women mayor for the City of Doral because they wanted to help them understand the enormous economic impact floral has on City of Doral and the surrounding Miami area. To provide some context to the magnitude floral has in the region, consider these facts: In 2022, 8.1 billion stems entered the U.S., and more than 90 percent of those came through Miami International Airport and Port Miami, according to Christine Boldt, the Executive Vice President of the Association of Floral Importers of Florida.
When Mayor Fraga took to the stage, she asserted similar sentiments about the importance the floral industry has on the local economy, and that collaboration and community are good for the City of Doral. "We understand the value of what the floral industry brings to our community," she says. "We want to bring the floral industry and community together, so people will know what it means and its impact on our community and workforce." She thanked Above All Flowers & New Bloom Solutions for highlighting the importance of collaboration between industries and businesses and what it does for our community.
Perhaps the most moving part of the event was the generosity of Above All Flowers & New Bloom Solutions, which donated a portion of the proceeds to two exceptional industry organizations, the Florida State Florists Association Scholarship Fund (FSFA) and Seed Your Future (SYF). Last year, Sahid, David, and their team vowed to increase the number of collaborators in 2023 and provide increased funding for organizations focusing on floral education and workforce development. The Bloom Together Initiative did not disappoint. This year a total of 45 companies collaborated and the event generated $2,400 for FSFA and SYF, which was four times more than it donated last year.
"FSFAI is so appreciative to those who gave generously for this event," says FSFAI's state president Jackie Lacey AAF, AIFD, CFD, PFCI. "That support will allow future florists to start or continue their certification journey. They are the future of the industry."
Seed Your Future's Executive Director, Jazmin Albarran, MBA, was also grateful for the support and pledged the support of the organization in helping to grow the industry with a talented pool of workers.
"On behalf of Seed Your Future, I would like to express our sincerest gratitude for choosing us as one of your donation recipients," Albarran says. "We want to be your partner in reaching the next generation of floriculture professionals. We will continue working with Above All Flowers and New Bloom Solutions."
Kate Penn, CEO of the Society of American Florists, was thrilled that SYF was included in the event's charitable giving aspect this year. "Anything that raises money for Seed Your Future ultimately helps the entire industry," Penn says. "Seed Your Future is laser-focused on creating a pipeline of talent for the floral industry by showcasing the vast array of jobs and career paths in floriculture and horticulture to people right when they are considering their career options. This is something everyone can benefit from."
Lots of gratitude and accolades for Above All Flowers & New Bloom Solutions were going around. David Torres, Chief Operating Officer with DWF Wholesale Florists in Denver, appreciates that Sahid is pushing for more open collaboration amongst competitors within the floral industry. "It's vital for our survival," says David. "As an industry, we learn so much from everybody — customers, competitors, vendors — when we get together, it's how we will all continue to grow and involve new people in the industry, which helps everyone."
Esmeralda Farms, a Doral importer and one of this year's sponsors, is also dedicated to supporting events like this. The company's North America Sales Manager, Beth Moya, a three-time attendee, couldn't contain her excitement about the event's growth and the attendees' energy. "I loved the party's energy, the inclusion of the local business leaders, and the fun environment," she says. "The setup made it easy for old friends to reconnect and network with new clients, vendors, and competitors. Our team loved it. We made new contacts as well as strengthened existing ones."
The Bloom Together After Party is a collaboration of companies coming together for the betterment of the industry and requires a host of logistics, prepping, and human involvement. Above All Flowers & New Bloom Solutions would like to thank the following contributors, collaborators, volunteers, and vendors that dedicated their time and resources and for understanding the value of the event, which encourages networking, collaboration, and building community within the flower industry and the city of Doral. If you are interested in being part of the movement in 2024, email pm@newbloomsolutions.com.
2023 Collaborators/Contributors
Local Business Vendors Providing Discounts/Samples
Swag Giveaways
Follow along on Facebook, LinkedIn, Instagram YouTube, and the website to be the first to know about upcoming events and industry news and check out the 2023Bloom Together After Party Images
About Above All Flowers & New Bloom Solutions
Above All Flowers & New Bloom Solutions is a floral industry marketing, consulting, business solutions, and service provider. Focused on innovation, sales, reach, and profits by helping reduce costs, increasing customer engagement, and building brand awareness. Devoted to being the floral industry authority in marketing, website development, collaborations, business development, and innovation. Connected to a network of flower breeders, growers, wholesalers, florists, and business solution providers. Committed to putting our clients in direct contact with these resources to help them build their business and grow their networks.
Written by: Sheila Santiago, CFRE of Society of American Florists (SAF)