Hardy Flower Varieties that Dry Well: A Guide to Drying and Preserving Beautiful Blooms
---
Plant Matter was created with the values of sustainability in mind. Plant Matter is not a traditional floral business, focusing on dried botanical art and floral arrangements. The idea for a sustainable floral business started brewing in my mind in 2018 as I was completing my senior year of college at Auburn University. Originally from Daphne, Alabama, I've always been surrounded by nature, plants, and flowers, which led me to study Environmental Design. During my time at Auburn, I learned the importance of supporting our local farmers, sustainability, and what efforts we need to take as a society to make sure our planet is a safe home for us all. In the early stages of my business, I learned about the relationship the floral industry has with sustainability and what ways I could build a stable business on the values of sustainability. Through this process, I learned that by focusing on hardy flowers that dry well and locally grown flowers, I can reduce my business's carbon footprint. Plant Matter focuses on opening our clientele to the possibilities of plant material and the importance of having it in our environments. Our services include custom botanical artwork, event installations, workshops, and art exhibitions.
Flowers have long been admired for their vibrant colors, delicate petals, and intoxicating scents. While fresh flowers bring joy and beauty to our homes, there is a timeless charm in preserving their natural elegance through the art of drying. Dried flowers offer a unique way to enjoy year-round blooms, and certain hardy flower varieties are particularly well-suited. Dried flowers are a sustainable way to enjoy flowers and practice preservation. Join me below as I explore some of these varieties and provide step-by-step instructions on how to dry each one effectively.
1. Roses (Rosa spp.):
Roses are classic flowers known for their timeless beauty and fragrance. To dry roses, choose blooms that are fully open but not yet showing signs of wilting. Gather a small bunch of roses, tie the stems, and hang them upside down in a well-ventilated, dark room. Within a few weeks, the roses will dry completely, and you can use them in dried floral arrangements or potpourri. Depending on the season, where you live, and where you purchase your flowers from will determine the varieties you find. Varieties that are commonly found in grocery stores are spray roses, also known as sweetheart roses, which have multiple blooms on each stem; Hybrid roses, known for their large, high-centered blooms; and Miniature roses, which are petite roses with tiny blooms and compact growth.
2. Lavender (Lavandula):
Lavender is not only renowned for its calming fragrance but also for its ability to retain its color and shape when dried. To dry lavender, gather several stems into small bundles and secure them with a rubber band or twine. Hang the bundle upside down in a warm, well-ventilated area away from direct sunlight. Once fully dried, typically after two to three weeks, the lavender can be used in various crafts, potpourri, or simply displayed in vases. Lavendar's scent is herbaceous and medicinal; it gives a relaxed, spa-like feel when used. I use it as a floral arrangement in my bedroom or mix it with eucalyptus and hang it from the shower. Using them as outdoor wreaths creates a welcoming environment for guests when they enter your home.
3. Statice (Limonium sinuatum):
Statice is a popular flower for drying due to its papery texture and long-lasting nature. To dry statice, bundle several stems together and hang them upside down in a cool, dark room with good air circulation. After a few weeks, the statice will be dry and can be used in wreaths, arrangements, or long-lasting boutonnieres. Statice pair beautifully in long-lasting bouquets with Hydrangeas, another hardy flower that drys well.
4. Globe Amaranth (Gomphrena globose):
Known for their striking, globe-shaped flower heads, globe amaranths retain their vibrant colors when dried. Hang them upside down in a warm, well-ventilated area. The drying process takes approximately two weeks. Once dried, the globe amaranth flowers can be used in everlasting bouquets, pressed flower art, or added to potpourri mixtures. Depending on the area you live in, Globe Amaranth can be found at your local farmers market from early summer until late fall, depending on your location.
5. Strawflower (Xerochrysum bracteatum):
Strawflowers are a classic choice for drying, thanks to their papery petals and rich, warm hues. Hang the stems upside down in a dark, well-ventilated space for about two weeks. Strawflowers retain their color exceptionally well and are perfect for creating wreaths, dried flower arrangements, or adding texture to dried flower bouquets. Strawflower is a favorite of mine because of it's light, sweet scent, shape, and color varieties. I also purchase it from my local farmers market.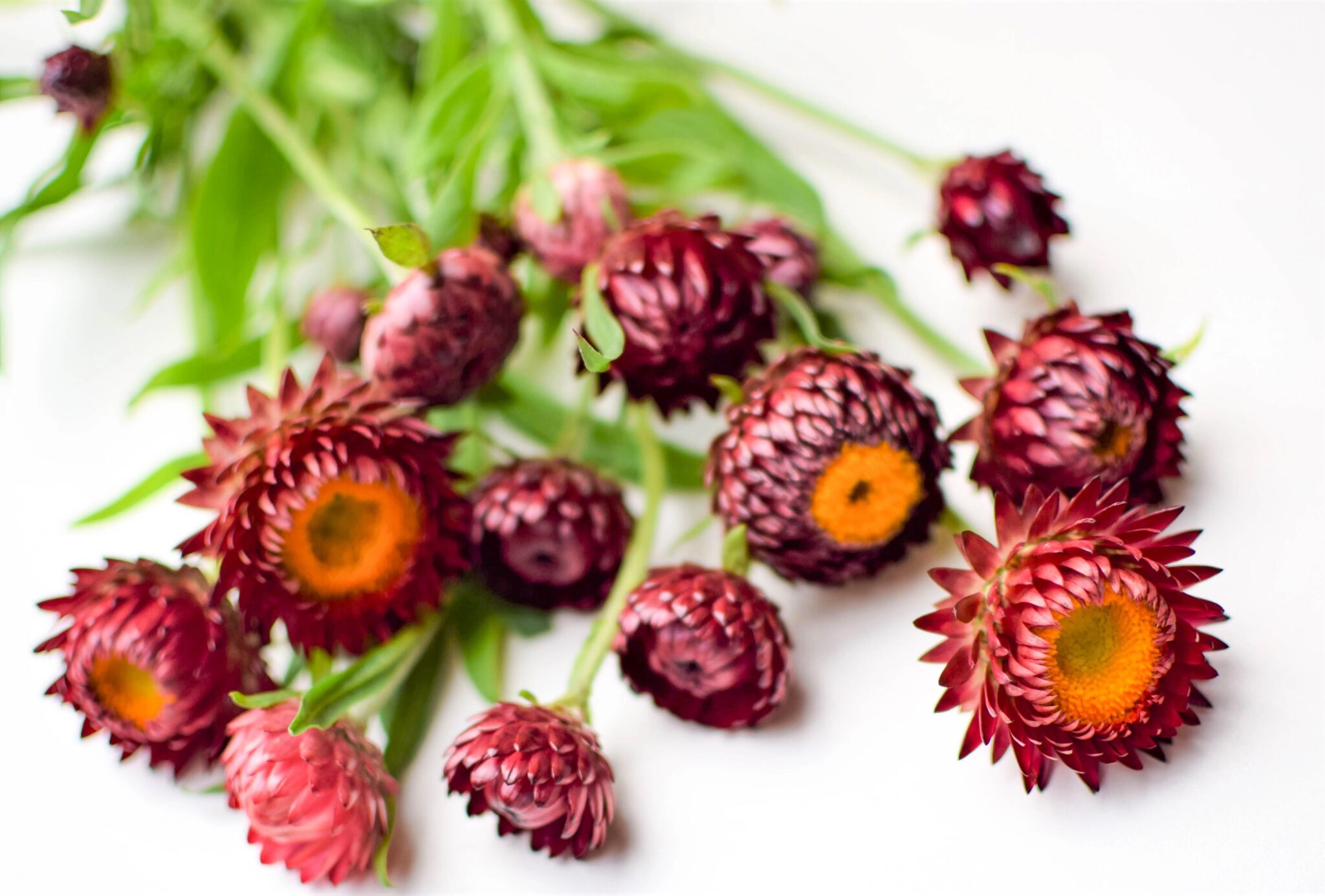 6. Baby's Breath (Gsypsophila paniculate):
Baby's Breath is a delicate, airy flower often used as a filler in fresh floral arrangements. When dried, it maintains its delicate appearance and is popular for adding texture to dried bouquets and crafts. Hang them upside down in a warm, dry location. After a week or so, the baby's breath will be completely dry and ready to use. Baby's Breath is one of the most common flowers found in your local grocery store. When baby's breath is dried, it can be transformed in many different ways. Floral-safe spray paint is an easy and fast way to transform the color of Baby Breath.
My business is rooted in sustainability and preservation. Working with hardy materials that dry well opens up the ability to always enjoy your blooms for an extended amount of time and watch them change over time. Drying fresh flowers and working with preserved flowers helps align my business with the sustainable values it was built on. Drying flowers allows us to preserve their beauty and enjoy them long after their natural lifespan. The hardy flower varieties mentioned above are excellent choices for drying due to their ability to retain their color, shape, and texture.
When drying flowers, always ensure proper air circulation, a dry environment, and the avoidance of direct sunlight. Patience is key, as most flowers take a couple of weeks to dry fully. Once dried, these hardy varieties can be used in various crafts, home décor, and arrangements, allowing you to savor the beauty of flowers throughout the year.
So, the next time you come across these hardy flower varieties, consider using some of the techniques in this article to dry them. Working with dried flowers promotes sustainability and preservation, values my business promotes. Drying fresh flowers allows you to enjoy them in different stages: dried and fresh. Preservation of fresh flowers unlocks the endless possibilities flowers offer in enhancing your living space with their timeless charm.
Valencia Wilson
Plant Matter
Washington, DC
plantmatter.art
trapflowersllc@gmail.com
Be the first to know about the latest floral industry trends by signing up for our newsletter.