What is Emerge Americas?
Emerge Americas is a major event for tech startups in Miami. Many new companies that attended the conference, such as Finback, are already worth over a billion dollars.
It is a showcase of innovation, technology, and ingenuity. The companies that attend the event compete for over $400,000 in prizes. We attended this year's conference to discover innovations in business organization, logistics, and technology.
What is Above All Flowers / New Bloom Solutions?
Above All Flowers / New Bloom Solutions is a floral marketing consulting agency that helps companies in the floral industry grow their businesses. They help companies do SEO, website design, product procurement, and business development.
New Bloom Solutions is not associated with the Emerge Americas Miami technology event. However, we attend it to learn about new technologies and how they might help people in the flower industry.
Things like organic waste treatment and biodegradable alternatives to plastic could be useful to us. We want to know everything we can about emerging new technologies. We interviewed several people at the event to keep up with the newest business ideas.
Bioplaster Research
Aaron Hernandez Cid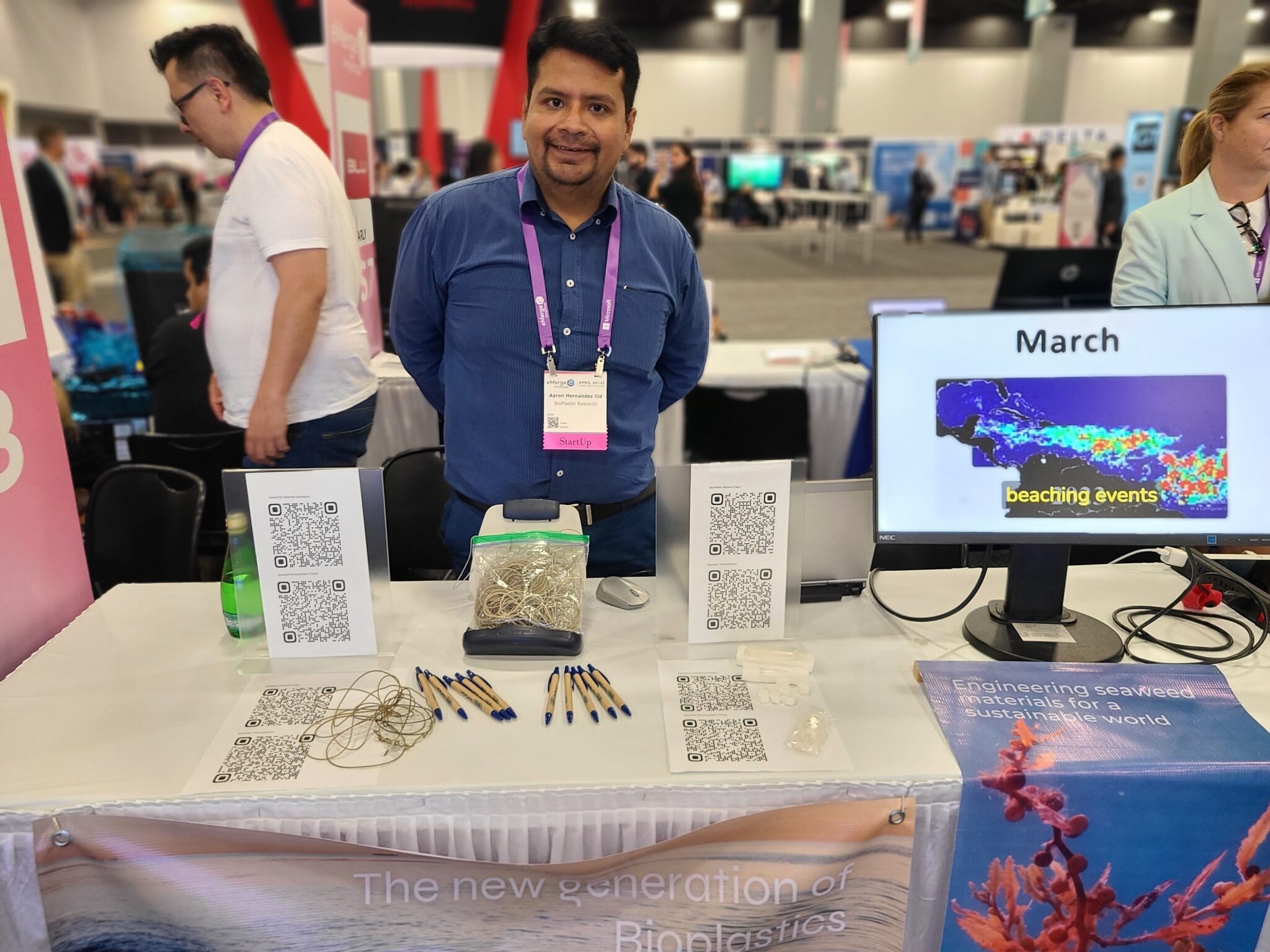 Bioplaster Research is a biotech and nanotech materials company that makes innovative seaweed-based materials. CTO Dr.Aaron Hernandez Cid says Bioplaster Research already engineers seaweed into a material for the packaging industry and is looking into bioplastics.
The seaweed is collected near the Mexican and Caribbean coasts and processed into polymers. Bioplaster research also produces yarn, fishing nets, and other products.
Hernandez explained that their company has been doing this for three years and is currently trying to scale up what they do in the laboratory. I like the idea of making plastics from something other than petroleum and hope the technology becomes practical quickly. In our industry, we could use petroleum-free plastic to tie flowers.
He then explained that they already have prototypes for bioplastics and molding plastics to fabricate bottles, including cosmetics bottles. They are currently partnering with a large company in Mexico and another large international furniture enterprise to use their technology for packaging.
Hernandez showed us a material similar to styrofoam but made from biopolymers. He then spoke about the importance of biodegradable fishing nets, which won't stay in the sea for too long.
Microbes in the sea can get rid of a biodegradable fishing net in only three or four years. Currently, fishing nets left in the ocean, called ghost nets, kill countless fish and other marine animals. Non-biodegradable nylon fishing nets can also get stuck in propellers and damage ships.
Bybug
Daniel Troncoso
Bybug is a waste treatment company that uses new technology to treat organic waste without damaging the environment. They use insects to turn organic waste into insect protein and organic fertilizer.
CTO Daniel Troncoso claims their company has the most profitable organic waste recycling process in the world. The insects are genetically modified to produce as much insect protein as possible. The insects also produce fertilizer, which is useful in the floral industry.
Troncoso explained that a client only needs to put the organic waste into the machine, and the insects will do the rest of the work. Tronosco said he had tried the fertilizers on high-value crops and that the effectiveness of fertilizer from insects is well-known in the industry.
Lombris Inc
Danny Daniels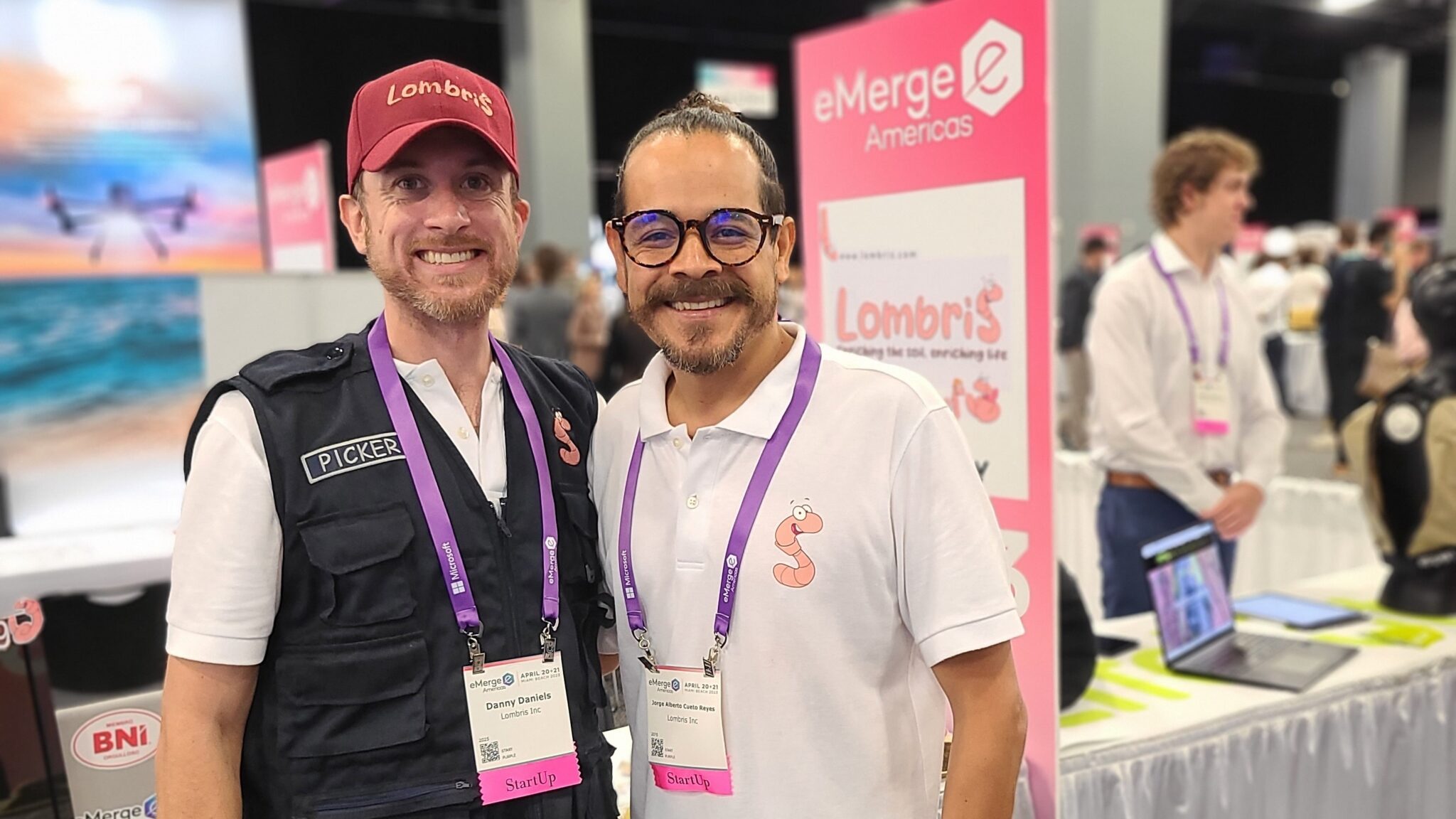 Lombris Inc aims to use earthworms to regenerate agricultural soil. Fertile soil is full of plant nutrients, minerals, water, dissolved substances, and the right gasses. Land often becomes infertile and bad for plant growth, but earthworms can regenerate it.
Danny Daniels of Lombris wants people to compost their organic waste at home with earthworms and turn it into powerful fertilizer. Clients love the potent fertilizer, which significantly increases soil fertility and agricultural production.
He says that "every client who has used our organic fertilizer always comes back and wants more." Daniels gave a recent example of production increasing three or four times. The company is currently in Mexico and plans to expand elsewhere in the Americas over the coming years.
Lombris wants to minimize the amount of work that their customers have to do. They will show up at clients' houses once every 15 days and do all the dirty work for their customers. They also provide training.
Lombris also gives their customers "Lombris Pesos," which they can use to buy local products or donate to organizations in the city. The more organic fertilizer they extract, the more Lombris Pesos they earn. Currently, they are only producing 100 kilos of fertilizer, but they plan to scale up their business.
Energy Drops
Domenica Lupera and Jose Sarmiento
Can you make algae into a useful product? Some companies, including Energy Drops believe you can.
The company uses algae to produce containers that can hold any liquid as an alternative to plastic containers. They are looking for investors to scale up production and create many new sustainable and biodegradable products.
General manager Domenica Lupera aims to sell her containers to marathoners and large companies such as Powerade. I asked how these presumably biodegradable containers could benefit the flower industry. She said, "We are looking for investment to further develop our product to be able to scale it and produce it in mass quantities."
She also intends to diversify the uses of the product after she finds investors. She confirmed that this is a fully biodegradable and sustainable product. People might use materials made of algae to cover flowers in the future.
BloomsPal
Carlos Romero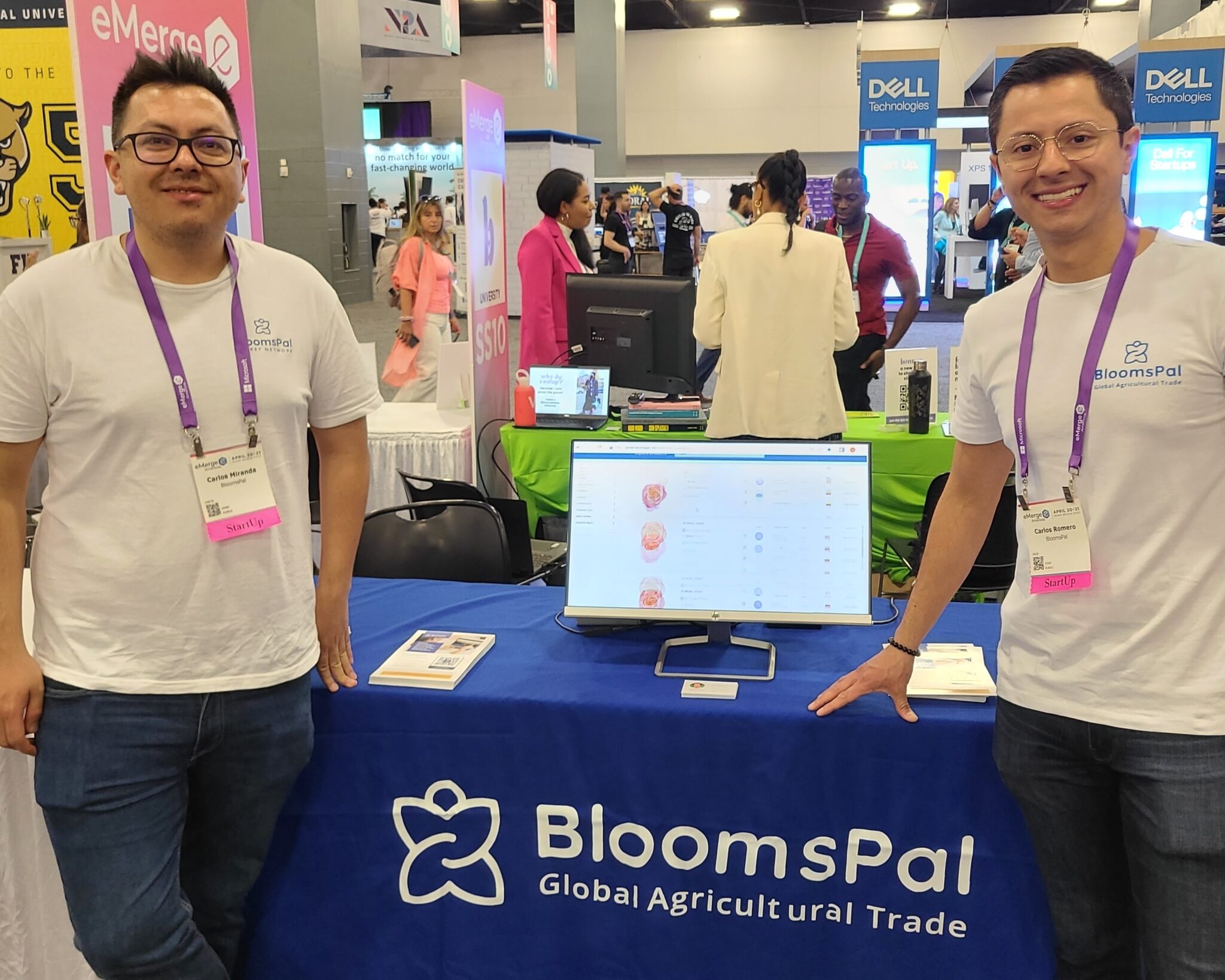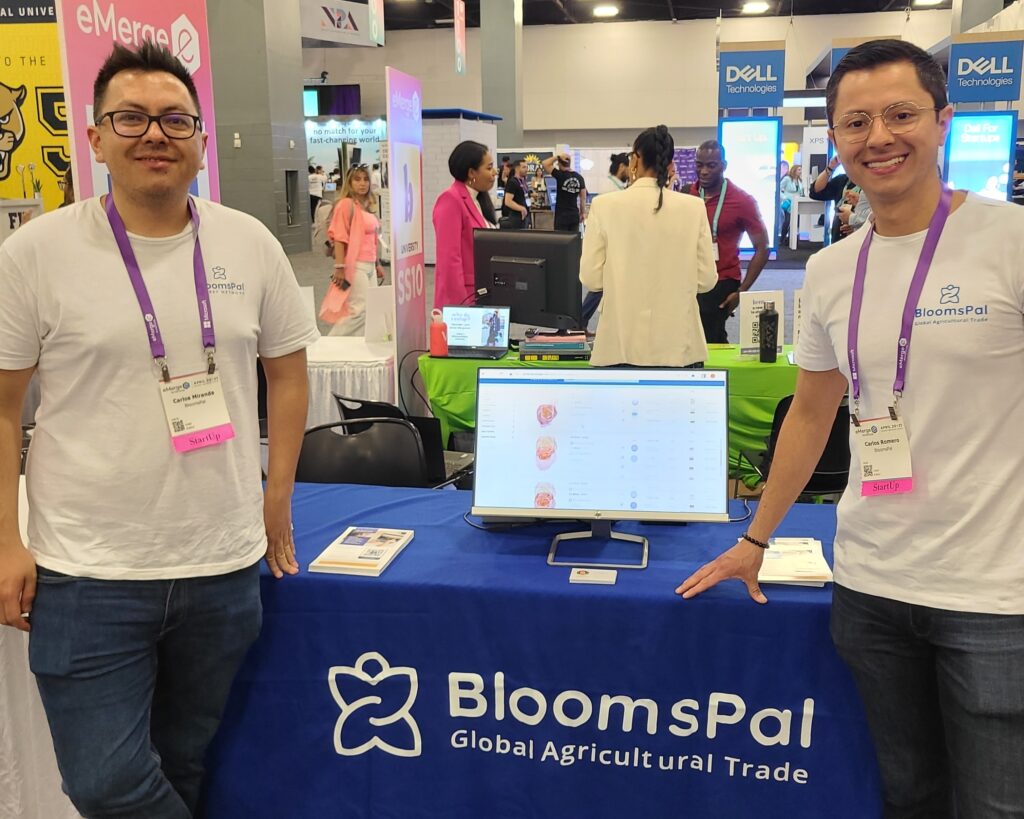 BloomsPal is a successful new company that negotiates agricultural deals. Customers can log into an online marketplace and look at a list of vendors selling agricultural products. They were particularly interesting to us because they work in the flower industry.
The company is a business-to-business marketplace for the agriculture industry. Bloomspal was founded by people who recognized the need to connect international buyers to suppliers, including logistics and payment processing. Romero explained how he saw the need to connect growers in Columbia and Ecuador to buyers in other countries.
Romero also sees the flower industry as too "old school" and says, "There needs to be a lot of technology implemented into it." The company is trying to innovate, connect, and use technology as a tool for growers, sellers, distributors, wholesalers, importers, and retailers. Romero thinks that the world is rapidly changing and that it's only a matter of time before the flower industry changes.
New Technology Affects All Industries
The floral industry is not low-tech; it is connected to the rest of the high-tech modern world. Modern transportation technology moves goods around efficiently, and the Internet helps businesses communicate, advertise, and sell. New technologies like robotic automation and smart coolers may soon reshape the industry. People use new services like Uber and Lyft to deliver flowers.
At Above All Flowers and New Bloom Solutions, we are ready to embrace new technologies and innovations. We want to lead and help the floral industry reach new heights. By using the power of cutting-edge solutions, we are on a mission to change the way businesses in the floral industry thrive, making sure that everyone has a bright and successful future. If you want to know more about us, don't hesitate to reach out and visit our website.