Miami, Florida (Wednesday, March 1st, 2023) – Above All Flowers, New Bloom Solutions, Details Flowers Software, and WF&FSA  (Wholesale Florist & Florist Supplier Association) are bringing you brand new special episodes of The Bloom Show live at the 2023 Floral Distribution Conference (FDC) on March 7th, 2023. FDC is one of the largest floral conventions in North America. This time, Corrine Heck of Details Flowers Software will join forces with Sahid Nahim as the solo guest host of the third annual Women's Day Roundtable and as co-host of the Blooming Leaders Roundtable 2023. These shows are also made possible by Details Flowers Software.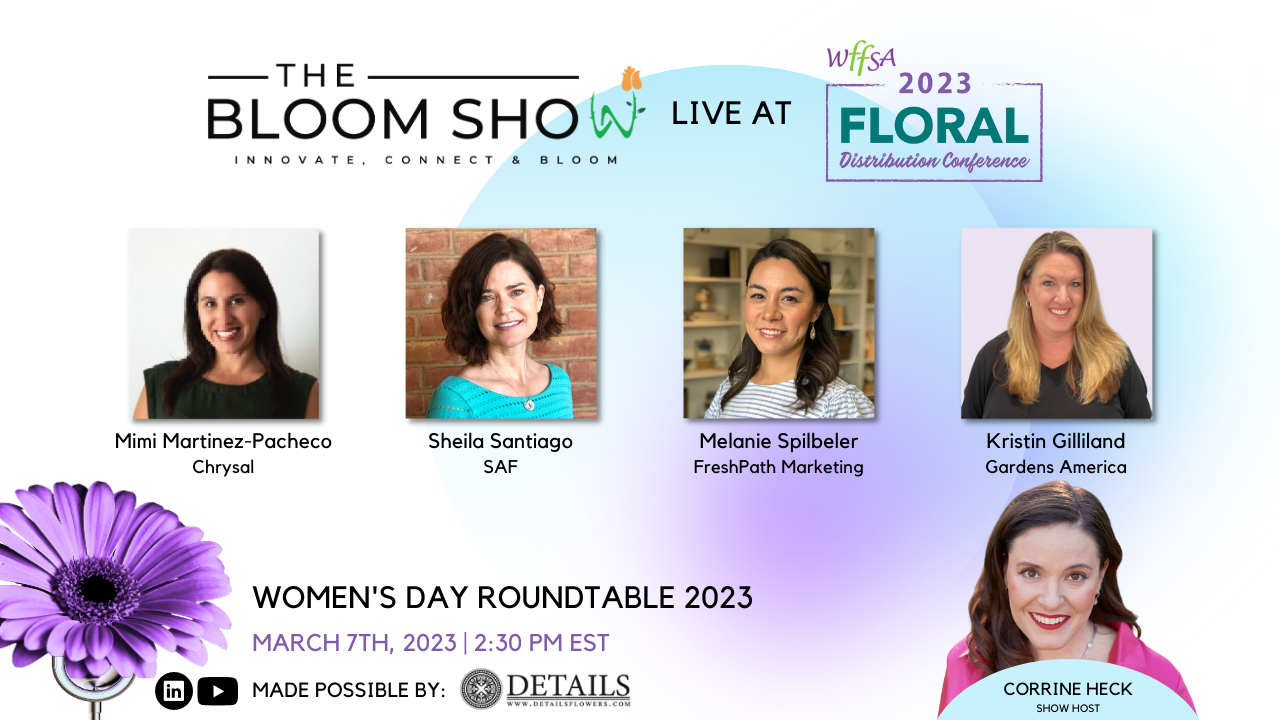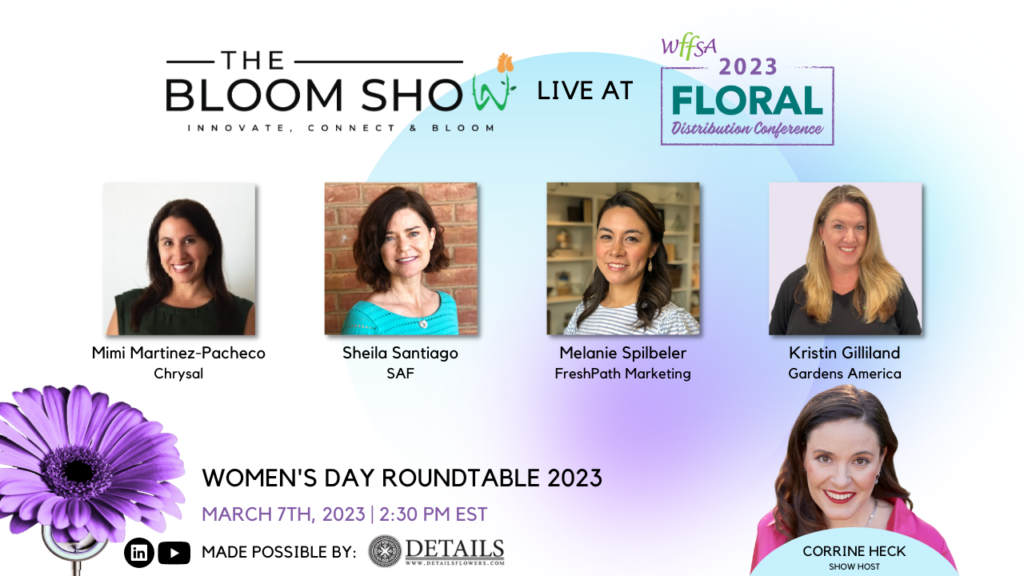 To celebrate Women's Day 2023, The Bloom Show is proud to present inspiring women leaders on the Women's Day Roundtable, who will come together to sit down and talk about leadership in the floral industry. In this special episode, we'll learn about the impact women have, as well as their contributions and passion for the floral industry. On March 7th, 2023, at 2:30 PM EST, special guest host Corrine Heck will be joined by Mimi Martinez of Chrysal Americas, Sheila Santiago of the Society of American Florists (SAF), Melanie Spilbeler of FreshPath Marketing, and Kristin Gilliland of Gardens America as her guests.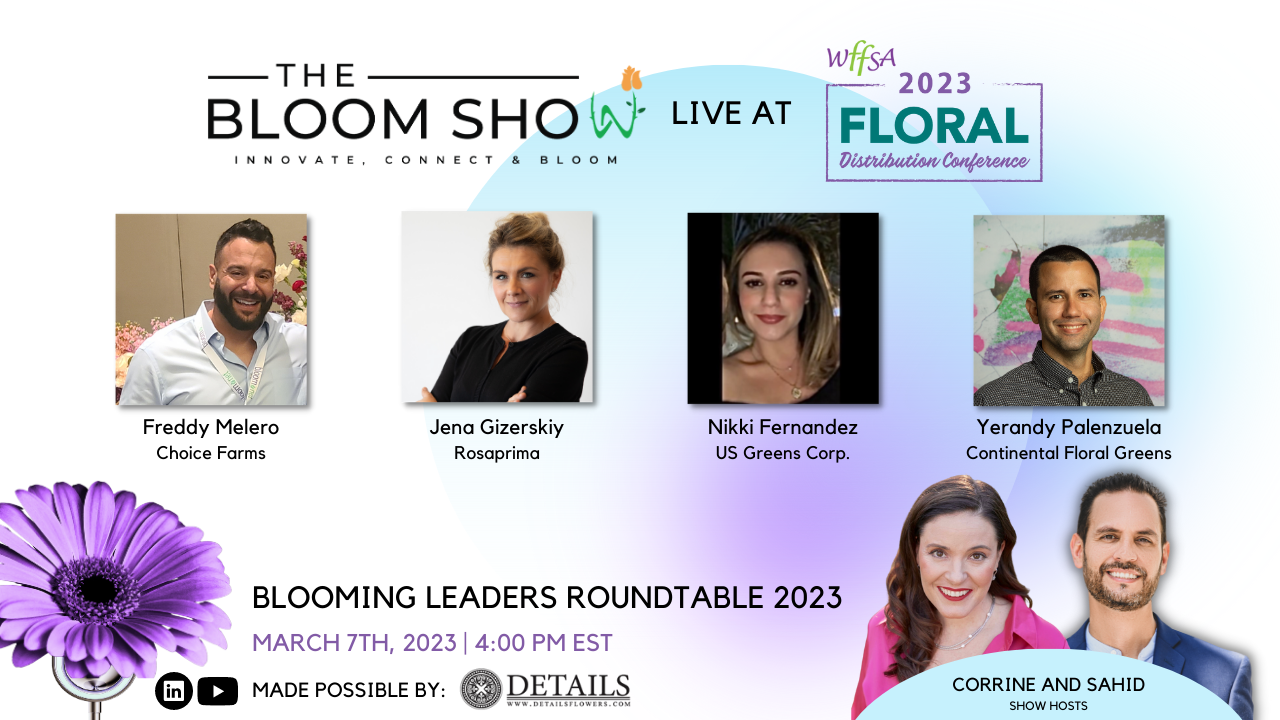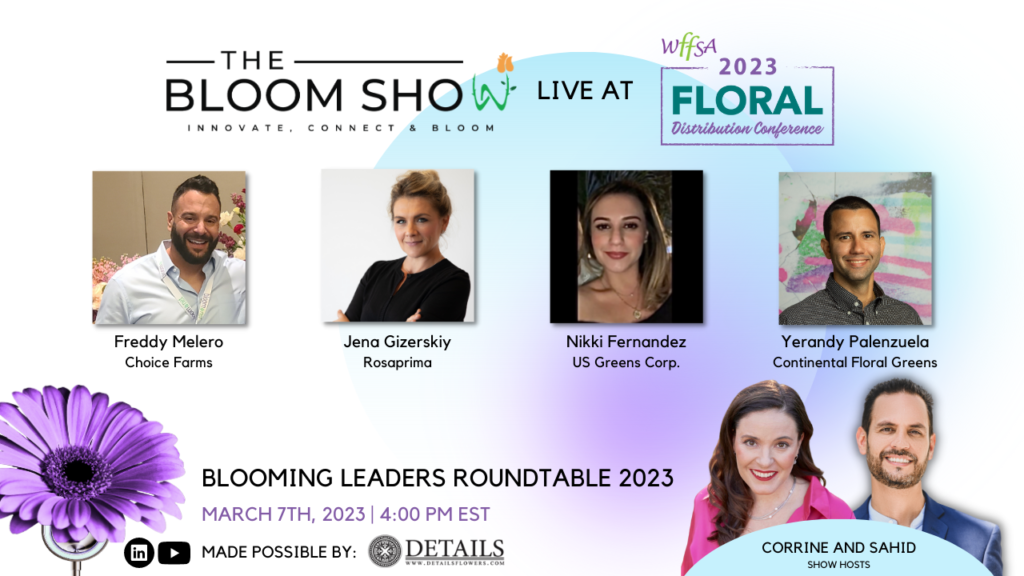 After this, an amazing lineup of guests will be featured on the Blooming Leaders Roundtable at 4:00 PM EST 2023. Corrine will then be joined by Sahid as they co-host this special episode together with their guests: Freddy Melero of Choice Farms, Jena Gizerskiy of Rosaprima, Nikki Fernandez of US Greens Corp., and Yerandy Palenzuela of Continental Floral Greens.
These shows are definitely something to look forward to! So make sure to mark your calendars and set your alarms, as these floral industry special episodes of The Bloom Show are some things you don't want to miss!
About The Bloom Show
The Bloom Show is a floral industry YouTube live show hosted by Sahid Nahim of Above All Flowers and New Bloom Solutions. It helps the floral industry innovate, connect, and bloom through community, networking, and bringing information to the industry from within the floral industry and other industry insights as well. The Bloom Show believes that the more information the floral community has, the better decisions we can all make!
Make sure to subscribe to our channel so you won't miss our episodes.